Share This:



The PCI Security Standards Council just updated the standard, and that's good news for content creators with compliance-conscious customers. Here are a few ideas for quick and dirty content you can create in-house. Big impact—little effort.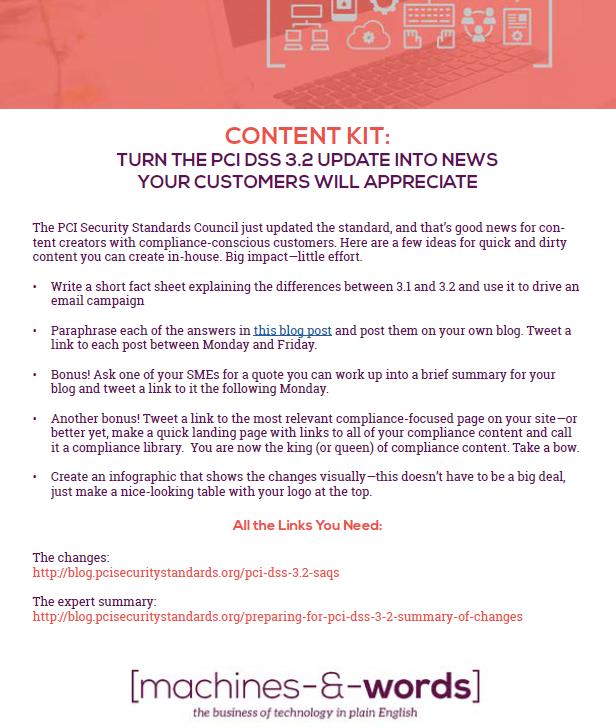 Write a short fact sheet explaining the differences between 3.1 and 3.2 and use it to drive an email campaign
Paraphrase each of the answers in this blog post and post them on your own blog. Tweet a link to each post between Monday and Friday.
Bonus! Ask one of your SMEs for a quote you can work up into a brief summary for your blog and tweet a link to it the following Monday.
Another bonus! Tweet a link to the most relevant compliance-focused page on your site—or better yet, make a quick landing page with links to all of your compliance content and call it a compliance library.  You are now the king (or queen) of compliance content. Take a bow.
Create an infographic that shows the changes visually—this doesn't have to be a big deal, just make a nice-looking table with your logo at the top.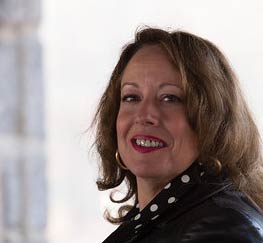 Jay Gitomer of Machines & Words helps companies selling complex technologies expose the real business value of their solutions and shorten their sales cycles with white papers, case studies, and slicks written in plain English. Over a decade of marketing experience in the tech industry has given her an understanding of strategy, technology, and B2B markets that translates into content that connects with your customers. Jay teaches digital marketing at the graduate level and is certified in inbound marketing by HubSpot. She is a graduate of Sarah Lawrence College and has an MA in English Literature and Creative Writing from NYU. Jay's secret shame is her mild obsession with true crime podcasts.